Exhibition at Yumikobo Gallery, Tamashima/Kurashiki, Japan
22.-24.06.2018
In June 2018, visual artist Hans Diernberger and sound artist Will Saunders were invited as artists in residence at Ichiuroko Art Space in Tamashima, to create new works and contribute to TAMA LOG.
In their exhibition, the artists responded to the striking traditional Japanese architecture of the gallery, using images and sound to create a space that combined the past and present of Tamashima, drawing on the geisha history of this ancient harbour town. Due to a huge shift of the population towards bigger cities, the town has been left alone – mostly shut down shops, empty restaurants and ghostly malls can be found today.
The artists engaged as much as possible with the local community, inviting them to collaborate on building objects for the exhibition, working closely with local traditional Tatami and paper shops as well as local printing facilities.
TAMA LOG is the Tamashima Area Photography Digital Archive Project, initiated by Rino Yasuhara.
A collection of historic photographs provided by local people are complimented by contemporary photographs taken by professional photographers, who are invited to spend time in Tamashima and document their view of the town and its surroundings.
Special thanks to: Hitoshi Saitou, Tomoko Sato, Rino Yasuhara, Sanae Yasuhara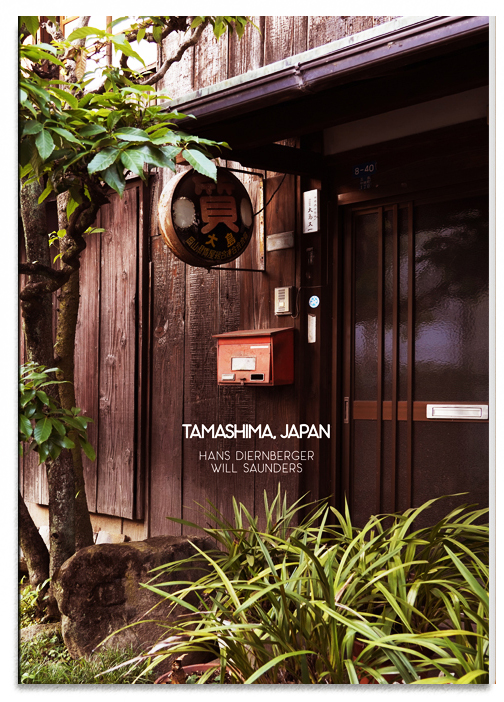 The photographs in this booklet are the artists' contribution to TAMA LOG. Also included are images shown in the exhibition.
See the book here
---
Tamashima Bay Scan. Washi paper on Giclée print, framed in Tatami border cotton. Each 120 x 84 cm
Projections of geishas Eitaro Matsunoya and his sister Maika Matsunoya into an abandoned geisha house in Tamashima.
Ko Ishikawa and Kazue Tajima playing the Shō, framed in tatami cotton.
Projection of a dancing Geisha onto shoji sliding door.
Sound installation by Will Saunders.
Using a piano as "Klangkörper" (sounding body), sonically blurring the border between inside and outside.
Installation images, Yumikobo Gallery